---
David Nelson and Banana and The Papermill Creek Rounders
---
David Nelson - Guitar, Vocals
Banana - banjo, vocals
Paul Shelasky - fiddle, vocals
Ed Neff - mandolin, vocals
Paul Knight - Bass, vocals
---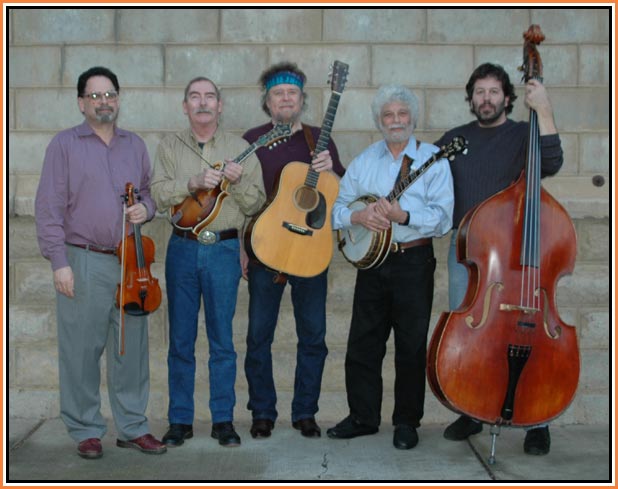 The Grange Hall, Morgan Hill, CA 3/5/05
---
The Papermill Creek Rounders ... round'er - One who makes the rounds of disreputable resorts... Sound like a working musician to you? Well these 'boys' have made the rounds, that's a fact.

The Rounders feature David Nelson and Banana who formed the band in 2003 due to their mutual desire to play the music they grew up on and have continued to practice over the years. They sing a lot of duets together taken from Reno & Smiley, The Stanley Brothers and other classics plus a few surprises. The fiddle and mandolin 'chairs' are drawn from stable of awesome veteran bluegrass players who are listed below.
---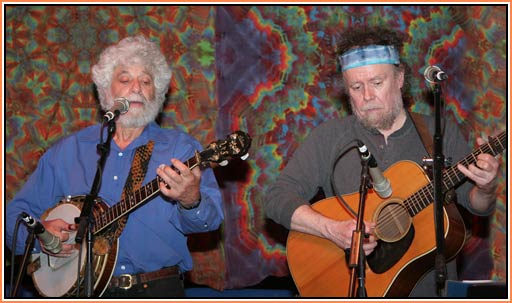 Black Bean BBQ, Santa Rosa, CA 4/21/06
---
The Core Band Members:
• David Nelson began playing bluegrass in the early sixties, forming two bay area bands; The Pine Valley Boys with Herb Pedersen and Butch Waller and the Wildwood Boys with Jerry Garcia and Robert Hunter. David and Jerry went on to form The New Riders of the Purple Sage. David had a big seller with his cover of the Peter Rowan standard Panama Red. He toured and recorded with The Jerry Garcia Acoustic Band and his Garcia produced album Pistol Packing Mamas with Don Reno, Chubby Wise, and Frank Wakefield is a bluegrass classic. He now tours with The David Nelson Band as well as performing with other conglomerations.
• Banana was beginning his career in bluegrass at the same time but on the opposite coast in Boston with "Banana and the Bunch, Old Time Music with Appeal". After several years in the east coast folk scene, he formed the Youngbloods with Jesse Colin Young. Moving to the San Francisco Bay Area, he produced the first two High Country albums for Butch Waller . He was accompanist to Mimi Farina for over twenty years, played with Zero, Norton Buffalo, Steve Kimock and Friends and currently plays blues with The Michael Barclay Blues Band and old time psychedelic rock with The Barry "The Fish" Melton band and bluegrass with David and Sam Grisman and the legendary Artie Rose and associates.
• Paul Shelasky just got off a long stint on the Bluegrass trail with Lost Highway and has been making the bluegrass 'rounds' for years with Frank Wakefield, The Good Ol' Persons, Tony Rice and David Grisman to name a few. He can also be seen these days appearing with The David Thom Band.
• Paul Knight is a veteran bass player who has played and recorded with Peter Rowan, Laurie Lewis, Sandy Rothman and many others.
Also frequently appearing with The Rounders:
• Keith Little has toured and recorded with Ricky Skaggs and Kentucky Thunder, The Country Gentlemen, Lonesome Standard Time and The Vern Williams Band. His vocals can be heard on Dolly Parton's bluegrass albums and he has released a solo CD called A Distant Land To Roam.
• Chad Manning plays with The David Grisman Bluegrass Experience and has toured and recorded with Due West as well as providing fiddle backup on many other recordings. His first album was produced by Darol Anger and he has just released his second solo album called The Gnarly Oak.
• Tom Beckany plays with many Bay Area bands including High Country and Kathy Kallick. His imaginative and spirited mandolin and fiddle playing are always welcome in the Rounders.
---
UPCOMING GIGS
---
May 21st, 2008 Wednesday Evening The Iron Springs Pub and Brewery Fairfax, CA 8:00 PM
---
---
---
Contact: Banana - 415-669-1107 Email to: banana@svn.net

---
All images and text on this web site are :
Copyright 2004 - 2008 by Lowell Levinger